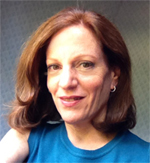 Hi. I'm Meg Rosner, the owner of Blue Kite Web Solutions LLC. I love what I do, which is to put the web to work for my small business clients. I get a lot of satisfaction when I solve problems for my clients – whether the challenge involves design, development, SEO (Search Engine Optimization), online marketing or social media.
While my primary goal for my clients is to deliver a beautiful, search engine friendly website, my secondary goal is to educate you about design and SEO best practices. I want you to have a strong, successful presence on the web and I want to empower you to understand the role you play in achieving this.
What Sets Blue Kite Apart
Experience: I've been involved with websites and everything web for over 15 years. (That's pretty much since the web was born.)
Responsiveness: Have you been frustrated by an organization that is difficult to contact? We will get back to you when you call or email.
Simple Speak: Our aim is to help and guide you, not frustrate you! We put the geek speak into plain language.
Connectedness: We have a network of colleagues we can call on, should your project require other skills.
We're looking forward to working with you!