We specialize in WordPress website design for small businesses.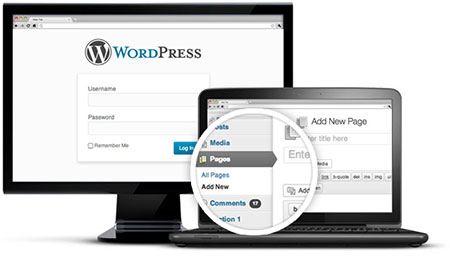 Your website will have all the features of WordPress paired with a design that reflects your unique brand.
The Powerful features of WordPress
Easy to update
WordPress makes it easy for you to be able to manage your own website. If you've been frustrated by having to wait days for your web designer to make a simple edit to your website's content, then you will welcome this. If you're comfortable working with a Word document, you'll find it easy to use WordPress.
Google-friendly
Google and other search engines have an easy time reading and indexing a website that is built with WordPress. This is in contract to some other web design tools that actually interfere with search engines. Matt Cutts, of Google's web team, says that "WordPress is made to do SEO well."
One Website, Many Screen Sizes
The websites we build with WordPress are "responsive." Responsive web design allows your website to work great and look beautiful on various screen sizes and devices. With responsive web design, you don't need a separate mobile website: one website adapts to all the different screen sizes and gives your site visitors a great experience.
Extremely popular
WordPress is one of the most widely used platforms in the world; there are currently over 75 million WordPress websites. What this means is that, should you decide you want to change web designers, you can always find someone locally or online who knows WordPress and can help you. A site built with a less popular tool (or a proprietary tool like some web design companies offer) can leave you searching for support or even having to start over and rebuild your website.
Our WordPress Website Design
At Blue Kite, we build on the WordPress platform, so you have a WordPress website with all the benefits that brings. But we create a look and feel for the website that is distinctive and reflects your business brand.
You won't see your website design coming and going everywhere you look on the internet.
Our WordPress websites are built just for you after consultation with you. We approach every project individually.
And…we will support you. Blue Kite will not disappear after your custom website is delivered. We are happy to work with you for years!
How much does a WordPress website from Blue Kite cost?
Asking exactly what a website costs is kind of like asking what a car costs. There are just too many variables. What size will it be? What special features will you need? What do you have ready-to-go in terms of content and what will we need to create?
What we can say is that we have delivered many small business WordPress websites in the $1,500 to $2,500 range. We will be able to tell you fairly quickly if your project will fall in this range or will be more complex.
So, meet with us. After finding out in detail what your needs and wishes are for your website, we will give you a specific quote.
Get in touch today to get started on your WordPress website.